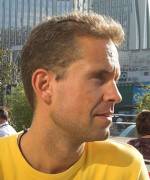 Hi, I'm Carsten Hess.

This is a small presentation of my self. You can read data about me and my place in the family hierarchi here (login as guest/guest).

I'm educated as an Electronics Engineer in Sønderborg back in 1989, but has never worked in the field of Electronics.
Instead I fell in love with computers in the middle of my education, and have been working as a professional software developer ever since. I have used Pascal, ASM on various platforms, C, ADA, C++ and the last 9 years: Java. I'm also very much into databases and especially love to tune a query so it runs those last milliseconds faster.
I have worked on exciting projects for the military industry (communication for SF300 and IS86 naval wessels and Stinger missile simulator), as well as developing new generations of the software for large scale automatisation plants and airports). My professional resumee is here (in danish - sorry).

My big hobby is to take pictures. I do most of it for the fun of it, but also a bit professional work. Check out my (so far) best shots here and some professional wedding shots here.

I take all the photographs with this equipment:
Canon 450D digital SLR body
Carl Zeiss Distagon 21mm 2.8
Carl Zeiss Distagon 28mm 2.8
Carl Zeiss Planar 85 mm 1.8
Carl Zeiss Sonnar 180mm 2.8
Canon 50 F1.8
Sigma 70-200 F2.8 EX HSM
Sigma 105 F2.8EX DG Macro
Sigma 1.4 extender
Sigma 500 DG Super flash

For me the whole flow from taking the picture to getting a good result on the web or on print is very important. I use a Spyder2 to calibrate my monitor to correct absolute colors.

I always shoot in raw mode and use RawShooter Premium 2006 with Magne Nilsen's icc profiles for the raw-conversion.

If you're interested in a very competitive offer for a wedding or for product shots, then drop me a mail.